A Star Is Born

Movie Review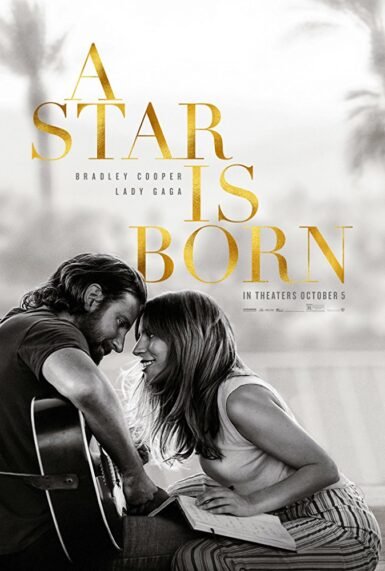 Reviewed By: Katy Whitton on 28 September, 2018
Overview:
A Star Is Born centres around drunk musician Jackson Maine whose star is starting to fade and shy waitress Ally who he takes under his wing to help her achieve her dreams of stardom. Is fame all it's cracked up to be? Will their relationship survive? Read on to see whether the film is worth the hype or hits a bum note,
Genre: Romance, Drama, Music
UK Release Date: 03-10-2018
Studio: Warner Bros
Director:
Top-Billed Cast:
Running Time:
2hrs 15 mins
UK Classification:

Katy's Score:
A Star Is Born is the tale of musician Jackson Maine (Bradley Cooper), an artist who's seen better days, and Ally (Lady Gaga) a shy waitress who is in need of some self-belief (unless she's singing in a drag bar then she's a musical harlot).
Maine's search for post-concert booze sees him rock up (rock, geddit?!) at a random bar just in time to catch Ally sing and he's bowled over by her performance – well, I'm assuming he was wowed by her voice as he was so shit-faced I doubt he could have translated the song from French in order to understand the words. They spend the rest of the night together talking about music, punching cops – you know, a standard night with a total stranger – and a bond begins to form over a bag of frozen peas.
Ally confesses that she writes her own songs but won't sing them as she's been knocked back too many times, just before singing one of the songs she's written. Despite the hypocrisy, this scene is really touching and it feels that the emotion of the scene was driven very much by Lady Gaga's own experiences of the music industry – and there-in lies one of the main problems with the film: I felt as though we were watching a dramatisation of Gaga's career from being a "serious" musician to moving into pop as that's what sells.
It's also unclear what Maine's role is in all of this. I got the impression he was supposed to be some washed-up musician that takes Ally under his wing and gets jealous of her success but over the course of the film he's touring and has songs on a juke box so he's very much in the public eye still – and that's another flaw in the film: Ally asks him why he's jealous but I don't think he is, he just wants her to avoid the mistakes he's made and stay true to her music. The thing is she is kind of staying true to it, she knows the popular stuff sells and seems to be having fun doing it so what's the harm? I was hoping to see her go full-blown diva which would have explained a lot of the tension between Jackson and Ally but that never really came across.
The script is very loosely written, it feels as though most of the film was improvised and that the only bits that were scripted were the concert scenes and that was purely because they filmed at real concerts so only had limited time. I'm not sure about the directing either – it's not bad for a directorial debut (it's Cooper's first directing gig) but there's just something missing that doesn't allow the full emotions of the characters to come across and as a result I was left not really feeling for either of them.
Cooper plays a boozed up Maine very well, the scene that takes place at the Grammy Awards is certainly worthy of an Oscar nomination, and even though there is eventually some backstory about why he drinks and takes drugs it happens so late on in the film I don't really care any more (and its just serves to set something up later rather than being proper exposition).
Lady Gaga is excellent as Ally, in fact I can't think of anyone else who could have played the role (although apparently Beyonce was linked to the script at one point), and she will certainly be a strong contender for Best Actress at all the major awards.
I haven't seen the 1970's version of A Star Is Born (or the 1950's or the 1930's – yes this is like the 4th version) so I don't have anything to directly compare this version to (although I did watch the trailer and was completely fascinated by Barbara Streisand's perm) but I was left feeling a little flat – as was the rest of the audience at our preview screening. I've been to films where they've clapped at the end and cheered but never had I heard an entire audience audibly go "Oh….." at the end of a film – until now.
I can see why people are raving about it –  I think that's only because there's not been another film of this type released (it feels like it's all been Superheroes) but it's a shame it couldn't have gone that little step further to stop me feeling rather deflated at the end.
Fair warning: There's alcohol and drug abuse, references to suicide, flashing lights and a flash of a naked Gaga so it's certainly not suitable for everyone.
Watch this if you'd like something that's not a superhero movie and want to punish your boyfriend for making you watch Ant-Man And The Wasp
To cheer you up after seeing this, check out Bab's hair
Related Items On Amazon